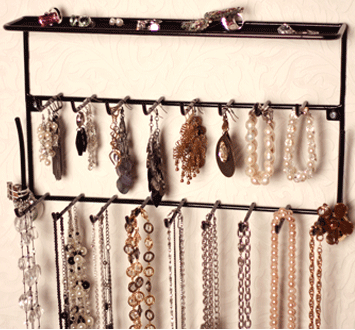 Da Bling Thing
Imagine…… It's 8:00am on a Monday morning and you're late for work, you have the most incredible pearl necklace to match your outfit but it's twisted around a pair of earrings, looped through a ring and hooked onto a watch. As you struggle to undo this tangled mess you get extremely frustrated so you decide to give up with your outfit being incomplete….. What a great start to your day! Happy Monday!
Can you relate to the above scenario?
We have the perfect solution for you! Da Bling Thing!
We understand that time is precious and we at Da Bling Thing have made life easier by providing easy visibility and accessibility to your jewellery, watches, rings, ties, belts, scarves, sports metals, etc. Providing a state-of-the-art, convenient space saver for men, women and children, the design is made of heavy duty black powder coated steel with a luxurious flat top shelf lined with plush black velvet. The idea behind the design is to display all your jewellery, scarves, and accessories in an organized manner enabling you to see all your pieces at a glance. Who knows, you may discover precious items and gems you forgot you even had!
Product Features:
We've thought of it all…
Constructed of heavy duty black powdered coated steel
An embossed flat shelf lined with black felt
Two vines on either side to hold and display rings
Two rows of uniquely engineered prongs, the bottom row features ridged stoppers to help secure all your necklaces and accessories from sliding
Product Dimensions/Specifications:
Width: 36cm (14″)
Height: 23cm (9″)
Depth: 11cm (4.5″)
You will require a drill or a screw driver to mount your rack (not included). 2 screws and 2 drywall anchors are included. Jewellery not included.